Oyster Bay Town Supervisor Joseph Saladino, Councilwoman Vicki Walsh, and Receiver of Taxes Jeffrey Pravato joined Contour Mortgage to kick-off the Town's Annual Toys for Tots Cruise-Thru Collection Drive. In partnership with the United States Marine Corps (USMC) and Optimum, the Town is collecting toys to help families and those less fortunate throughout the community during the upcoming holiday season.
The Town is once-again hosting its annual 'Cruise-Thru' Collection Drive on Saturday, December 3rd from 9am to 2pm at Burns Park in Massapequa, in addition to organizing collection boxes at Town facilities through December 14th. Toys for Tots Collection Boxes are located at the following locations: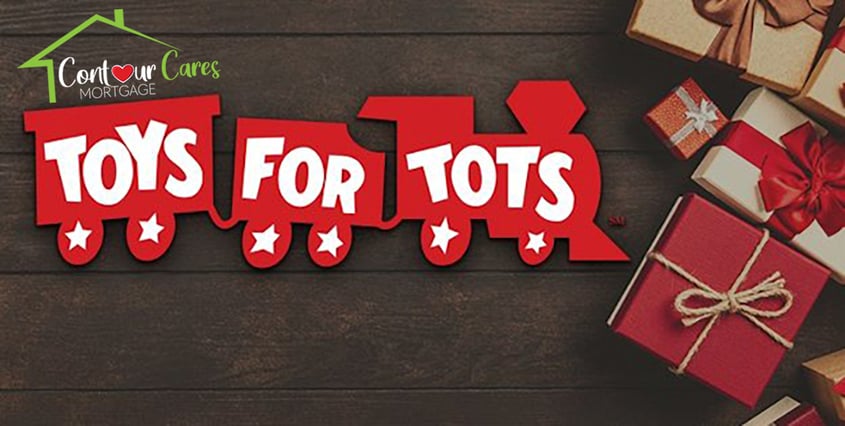 Champ and Contour Cares is ready to bring smiles to children this holiday season
The 'Cruise Thru Holiday Toy Drive' will provide residents an excellent way to contribute directly to the cause and help bring a smile to a child's face this holiday season.
Champ, the Contour Mortgage Service Dog will be delivering toys to the 'Cruise-Thru' event on December 4th. Additionally, the event will feature an appearance by Santa Claus, and a drop box where kids can drop their letters off to Santa. Letters dropped off with a legible name and return address will be answered by Santa before the holiday.

For more information, please visit www.oysterbaytown.com.
About Toys for Tots:
The Marine Toys for Tots Program is to collect new unwrapped toys and distribute those toys to less fortunate children at Christmas.
The primary goal of Marine Toys for Tots is, through the gift of a new toy, help bring the joy of Christmas and send a message of hope to America's less fortunate children.
Contour Cares Mission is to:
● Salute our Veterans
● Partner with our Police Officers and Firefighters
● Connect with our Communities
● Support Our Scouts by Assisting with Projects and Awards
● Show Appreciation to our Healthcare Workers and First Responders