Just a short drive or train ride from the hustle and bustle of New York City, Long Island offers visitors and residents an eclectic mix of suburban homes, gorgeous beaches, nature preserves, parks, and quaint downtowns lined with incredible restaurants and mom-and-pop shops.
It's loaded with plenty of fun and exciting activities for the entire family, and as such a special place, we decided to put together this special guide highlighting a small sample of all the extraordinary things to do on Long Island as you consider stopping by for a visit, or even making it your forever dream home.
As Long Island's

mortgage experts

, the Contour Mortgage team is here to help you as you explore all Long Island has to offer!

We'll begin with a brief history.
Prior to its settlement by the Dutch and other Europeans during the 17th century, Long Island was the ancestral home to 13 Indigenous tribes, with many of its towns and villages still bearing their names. Agriculture and fishing blossomed into two of its mainstay industries, and communities continued to pop up, and flourish, inland and all along its productive shores.
Eventually encompassing Kings, Queens, Nassau, and Suffolk counties, Long Island also became a popular retreat for wealthy business tycoons seeking year-round solace from the nearby humdrum of New York City. Many built stately mansions along Long Island's so-called "Gold Coast" as luxurious retreats.


Although the initial foundations of the Long Island Rail Road linking parts of Suffolk and Nassau counties to Queens and Brooklyn were established in 1834, ferry service remained the primary mode of transportation between Manhattan and Long Island until the construction of the Brooklyn Bridge about 50 years later. Several other bridges and tunnels would follow throughout the next century.

Nassau County experienced a population boom between 1947 and 1951 with the construction of Levittown, a hamlet of homes for returning WWII servicemen and women. The housing trend continued eastward through neighboring Suffolk County.

With former city dwellers realizing automobiles were a necessity, an extensive highway system was developed by Long Island State Park Commission Chairman Robert Moses. He also created Jones Beach State Park, and his namesake Robert Moses State Park—both of which remain summer favorites for Long Island and New York City residents.

Aside from its storied history, Long Island is home to countless beautiful beaches, arboretums, museums, and cultural attractions.


Here are some of our picks for the top 10 fun things to do on Long Island, including visiting its gorgeous shoreline,parks, restaurants, and much more.
1. Montauk & The Hamptons
Located at the easternmost tip of Long Island's South Fork, the historic village of Montauk is renowned for its breathtaking ocean views, and of course, its lighthouse, constructed in 1796.

Hither Hills State Park and Ditch Plains are extraordinary day trip destinations, and Montauk's shores are havens for surfers. With many shops, restaurants, and recreational activities, Montauk attracts families, couples, and retirees for weekend getaways. Its many hotels, resorts, and seasonal home rentals, make the perfect escapes.

Slightly west of Montauk is "The Hamptons." Often depicted in movies, television shows, and books as the playground for the wealthy and super elite, it comprises the incorporated towns of Southampton and East Hampton, as well as Hampton Bays, Westhampton Beach, Bridgehampton, Quogue, Sagaponack, Sag Harbor, and Amagansett.
The Hamptons boasts beautiful, pristine private beaches lined with multimillion-dollar mansions, high-end downtown shopping, and plenty of extraordinary restaurants.

Many families summering in the Hamptons can take advantage of camps, recreational programs, and other cultural activities. Its lively art and literary scene attracts many artists and writers for creative inspiration.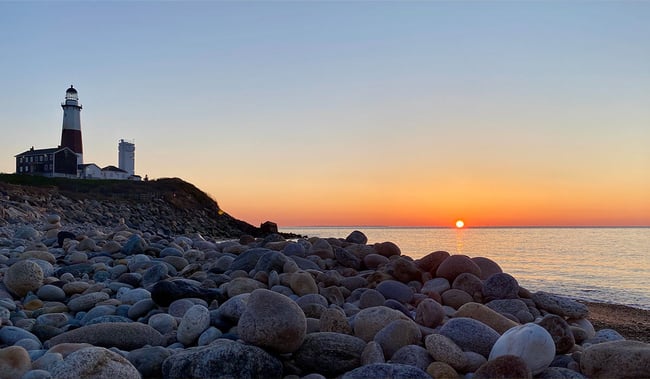 Photo Credit: Snapshots and Silhouettes



To the north of The Hamptons lies the North Fork, home to historic fishing hamlets Orient Point, Greenport, and Southold. Similar to its southern counterpart, it's become a popular summer spot for those craving some low-key fun and relaxation.

The North Fork boasts gorgeous beaches along the Long Island Sound and Peconic Bay, with Orient Beach State Park its anchor. Residents and visitors can catch the Cross Sound Ferry to New London, Connecticut for a quick day trip.

Visitors can also explore several popular wineries along its North Road. Known as the North Fork Wine Trail, it features some of the world's most award-winning selections and varieties.

Boasting many multi-generational family-owned farms, the North Fork also provides a steady supply of fresh-picked seasonal fruits and vegetables, such as strawberries, corn, and plums in the summer, and pumpkins and apples throughout the fall.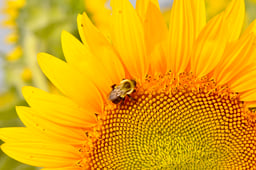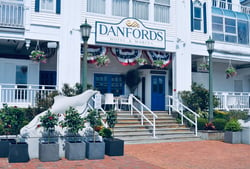 Photo Credit: Snapshots and Silhouettes
3. Fire Island National Seashore
Fire Island is a 26-mile barrier island along Long Island's South Shore, and protected U.S. National Seashore. Separated from the mainland by the Great South Bay, its south side runs along the Atlantic Ocean and comprises 17 private communities. Visitors can drive their vehicles to Robert Moses State Park or Smith Point Park, but the rest of the island must be accessed via private vessels or ferries departing from the Suffolk County communities of Bay Shore, Sayville, and Patchogue.
Fire Island holds a special charm for multi-generational visitors, many of whom return each year and stay at its small hotels or rent time-shares. The island is also popular for day trips and weekend getaways, with many visitors arriving by ferry service.

Naturally, the beaches are the island's main draw, as well as its popularity with families. The seaside community of Ocean Beach is recommended for its wide variety of restaurants and shops, along with plenty of available public restrooms. (There's even an ice cream shop there that sells chocolate-covered crickets!)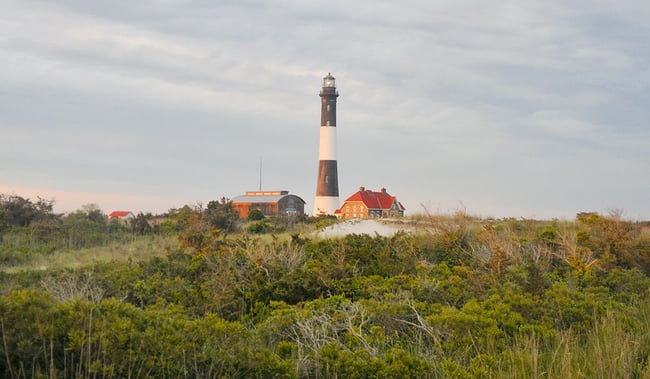 Photo Credit: Snapshots and Silhouettes
4. Old Westbury Gardens
Long Island's North Shore is home to many luxurious mansions, giving it the title of "Gold Coast." Comprising 200 acres of gardens, landscaping, ponds and lakes, the 1906-built Phipps family mansion, now called Old Westbury Gardens, is but one incredible example—featuring many of the family's antiques and heirlooms for public display.

The main Westbury House and gardens are favorites among families, school groups, and anyone with an interest in history, horticulture, or architecture. It's also a coveted spot for weddings, photo shoots, and any other occasion requiring stately opulence.
Photo Credit: Snapshots and Silhouettes
5. Nassau County "Museum Row"
Located in the heart of Nassau County, not far from Contour Mortgage's Garden City headquarters, is Museum Row. Comprising the Long Island Children's Museum, Cradle of Aviation Museum, and Nassau County Firefighters Museum & Education Center, plan to visit one—or all three—if you're feeling adventurous!

With the children's museum boasting several hands-on exhibits on multiple floors, you'll find something fun and educational for all ages.

The Cradle of Aviation Museum won't disappoint airplane enthusiasts or history buffs. It's full of original airplanes and spacecraft documenting Long Island and Grumman Aerospace's many contributions to our nation throughout World War II, our journey to the moon, and beyond. Among many, many other aviation-related facts you'll learn is that Charles Lindbergh departed in his Spirit of St. Louis from Roosevelt Field in Garden City for his famed 1927 trans-Atlantic flight. The museum also features an IMAX theater, illuminating the full experience of flight and beyond.

You'll want to end your day at the Firefighter's Museum to learn about the importance and awareness of volunteer fire departments throughout Long Island.
6. Vanderbilt Museum & Planetarium
Another Gold Coast home restored to its former glory is the 43-acre Vanderbilt Museum and Planetarium. With its Spanish Revival architecture, the museum boasts countless wildlife and plant specimens collected by William Vanderbilt II himself, as well as a boathouse and public gardens.

The planetarium is a favorite among children and adults alike for its laser shows, astronomy discussions, and even concerts. There's also a rooftop observatory with a reflecting telescope open on Friday nights for something fun and different.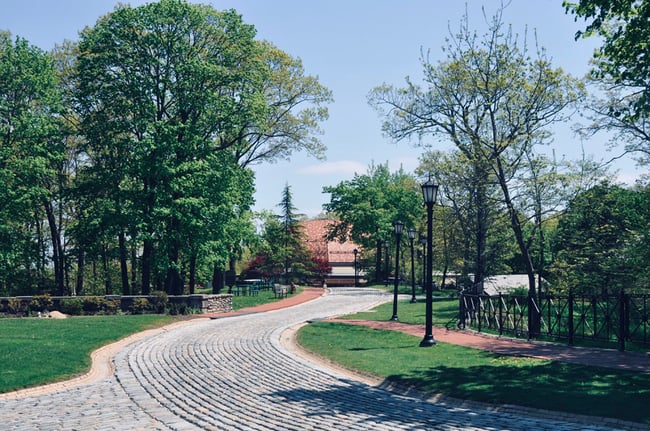 Photo Credit: Snapshots and Silhouettes
7. Lush Historical Arboretums
In addition to its many public gardens and trails, Long Island hosts several arboretums, such as Bailey, Bayard Cutting, and Planting Fields, located in Locust Valley, Great River, and Oyster Bay, respectively.
Bailey Arboretum is known for its Long Island ecological history and hands-on nature center for children. Visitors can also explore its more than 40 acres of gardens and trails, replete with beautiful natural wonders.

In nearby Oyster Bay, be sure to visit Planting Fields Arboretum—with 409 acres of lush gardens, hills, and nature trails to enjoy. The former estate of William Robertson Coe and Mai Rogers Coe features many of their mesmerizing antiques.
Stop by the South Shore's Bayard Cutting Arboretum for its vast collection of hemlock, spruce, and stunning flora. The site also features several ponds and streams to walk along while exploring flowers in bloom.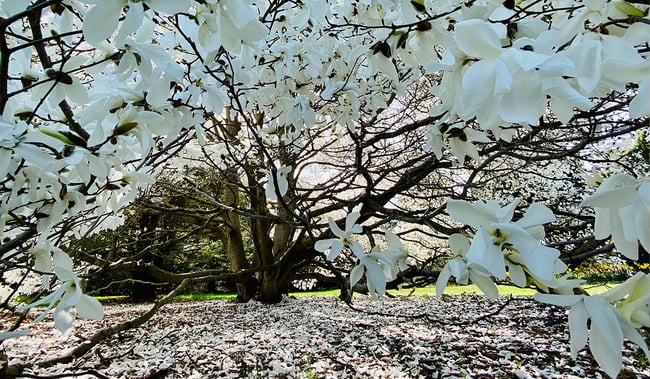 Photo Credit: Snapshots and Silhouettes
Long Island Aquarium features unforgettable marine exhibits including a 20,000-gallon coral reef tank, sharks, and even penguins! Marvel at its many outdoor marine life shows, and be sure to explore non-sea life exhibits too, among these, an indoor butterfly tropical garden and Amazon rainforest simulation.
9. Adventureland & Splish Splash Water Park
Entertaining families for generations, Adventureland has been a Long Island staple since 1962. Located off Route 110 in Farmingdale, it features countless rides, games, and activities for visitors of every age! One of its newest additions is a 60-foot Sports Tower with mini hot-air balloons shaped as baseballs, basketballs, soccer balls, and more!

Splish Splash Water Park in Riverhead offers countless water rides to cool down those endless, hot and hazy days of summer. Located off the Long Island Expressway, it has been a Long Island mainstay since 1991. Open from Memorial Day Weekend through Labor Day, the park features a lazy river, water slides, kiddie pools, wave pool, and so much more!
10. Diverse Restaurant & Cuisine Offerings
Long Island restaurants are as varied as they are enjoyable! From authentic Italian, Greek, and Thai to Afgani, Indian, and everything in between—there are delicious flavors served for every taste bud!

Many also offer waterside or dockside dining, along with the freshest seafood around. With way too many restaurants and eateries to list here, it's best to research online, check out reviews, or ask one of our longtime loan officers—many of whom have called Long Island home for several generations!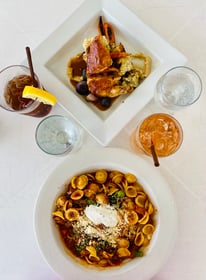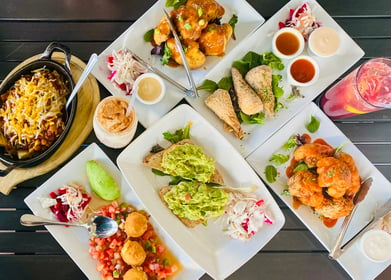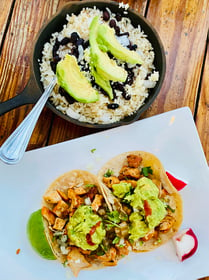 Photo Credit: Snapshots and Silhouettes
Making the Most of Your Time on Long Island
Whether a quick visit to Long Island or making it your permanent residence, Contour Mortgage will provide everything you need to know about this special place and its current housing market to ensure you secure the home of your dreams!


---
With headquarters in Garden City, and various locations throughout Nassau and Suffolk counties, Contour Mortgage can answer any questions you may have about Long Island. Contact us today!
Feature Image Photo Credit: Snapshots and Silhouettes